Mark Your Calendar for THIS Weds –  March 10th 11:30 am – 9:00 pm!
Lunch & Dinner @ Pie-Tanza!!!
**Tell your server or when you call in to place your order you are here for YHS Football!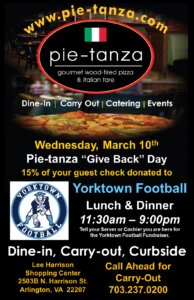 YHS Drum Grill/Firepit Raffle!
Or text to enter the raffle:

yorktownfootball

to 855-202-2100
A big thank you to all those who reached out to offer your volunteering help and for Deanne Brock who organized the Drum Raffle, and Jamie Bell for organizing the Pietanza night. We're very grateful for your help!!!
YHS Football Boosters; Whitney, Leslie & Julianna